How can you job hunt and network from your living room? Join us for a virtual conversation with international affairs and human resources professionals on preparing for video interviews, informational interviews and how to tailor your job search. While open to everyone, this discussion is designed for recent graduates and young professionals.
---
Clarissa Balatan, Senior Human Resources Manager at World Resources Institute, has over 13 years of human resources and leadership experiences with the National Labor Relations Board, Owens Corning, and Lockheed Martin. She has held roles of increasing responsibility supporting talent management, diversity and inclusion, compensation, talent acquisition, HR information systems, workforce strategy, and labor relations. Clarissa holds a BA in human resources management from Michigan State University, and MBA and MS degrees in finance from Indiana University. She is a certified Senior Professional in Human Resources and recently completed Georgetown's Nonprofit Management Executive Certificate program. She speaks Mandarin and Spanish and volunteers at Children's National Hospital in Washington, DC.
Alyssa Best is an independent career coach and a part-time career advisor at American University. She opened her practice in 2009 to support non-profit professionals. Since then, she has expanded her focus to serve clients undergoing career transitions in diverse industries and sectors, including foreign policy. At AU, she advises students and alumni and offers guidance on resume writing and interviewing. Previously, Alyssa worked in non-profit program management and advocacy at The OpEd Project, Wider Opportunities for Women, Center for Progressive Leadership, and Rutgers Institute for Women's Leadership. She is passionate about helping individuals identify their dream careers and providing them with the tools to achieve their goals. She has a certificate in personal development coaching and an MA in Women's and Gender Studies from Rutgers.
Nadia Crevecoeur is a Government & Public Services Analyst at Deloitte Consulting. She currently supports USAID's Workforce Transformation project, and consults pro-bono for non-profits in the DC area. Previously, Nadia served as the Senior Program Assistant at Women In International Security (WIIS), worked in the special victim's unit of the Baltimore City State's Attorney's Office, and researched measuring UN peacekeeping success with the Global Governance Institute in Brussels. Nadia received a BA from the George Washington University's Elliott School of International Affairs with a concentration in Conflict Resolution.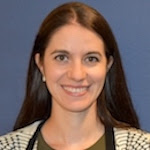 Kim Kahnhauser Freeman is the executive director of the Women's Foreign Policy Group, a non-profit organization which promotes women's leadership and amplifies their voices in international affairs. Since joining the WFPG team in 2006, she has held roles of increasing responsibility supporting the organization's global issues programs, membership outreach, mentoring initiatives, and strategic development. Previously, Kim was a Fulbright teaching fellow in Tirol, Austria, and researched public housing for the Center for Social Justice Research, Teaching and Service in DC. Kim was a 2011 State Department Young Turkey/Young America Fellow, and holds a BS in International Politics from Georgetown and an Executive Certificate in Nonprofit Management from Georgetown's McCourt School of Public Policy.